Create a Battle-Royale FFA tournament!

Toornament does not offer a fully-fledged Free-For-All format just yet, but in the meantime, we have come up with a way for you to create and manage a FFA Tournament like the one held on Playerunknown's Battlegrounds during the Gamescom!
It involves some of our Advanced Settings and it works wonders!
First off, a few key points:
You need an even number of Participants. If that's not the case, you're gonna have to create a Ghost Participant.
You need a Ranking Scale to attribute points depending on the position of each squad at the end of a game.
It is based off the Swiss System for simplicity and visual purposes, but for a single match, it also works with a League Stage.
This will work for the time being, but our developers are currently working on a real FFA structure, that is soon to be released!
So now, let's create a 20-Squads PUBG Tournament, held across 3 games with ranking and rounds, just like the one they played in Cologne.
First off, create your tournament, select the PUBG Discipline, Team Tournament and Size of 20.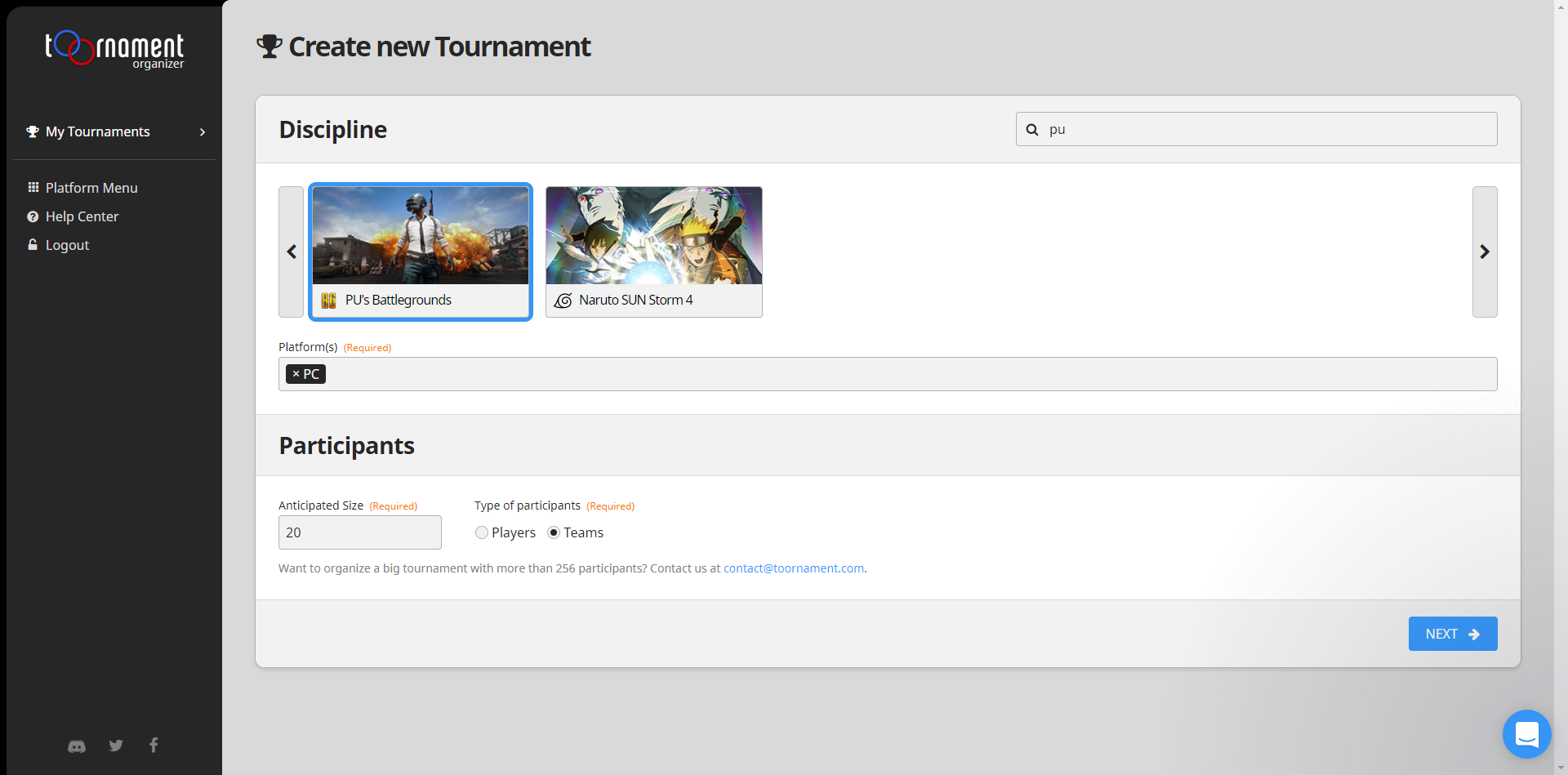 Tournament Creation - Click to Enlarge
Then open your registrations or manually create all of your Participants, and go to your Structure. Create a Swiss Stage, with a Size of 20, and under the "Advanced" tab, change the Points Attribution system to "Match Score" ONLY: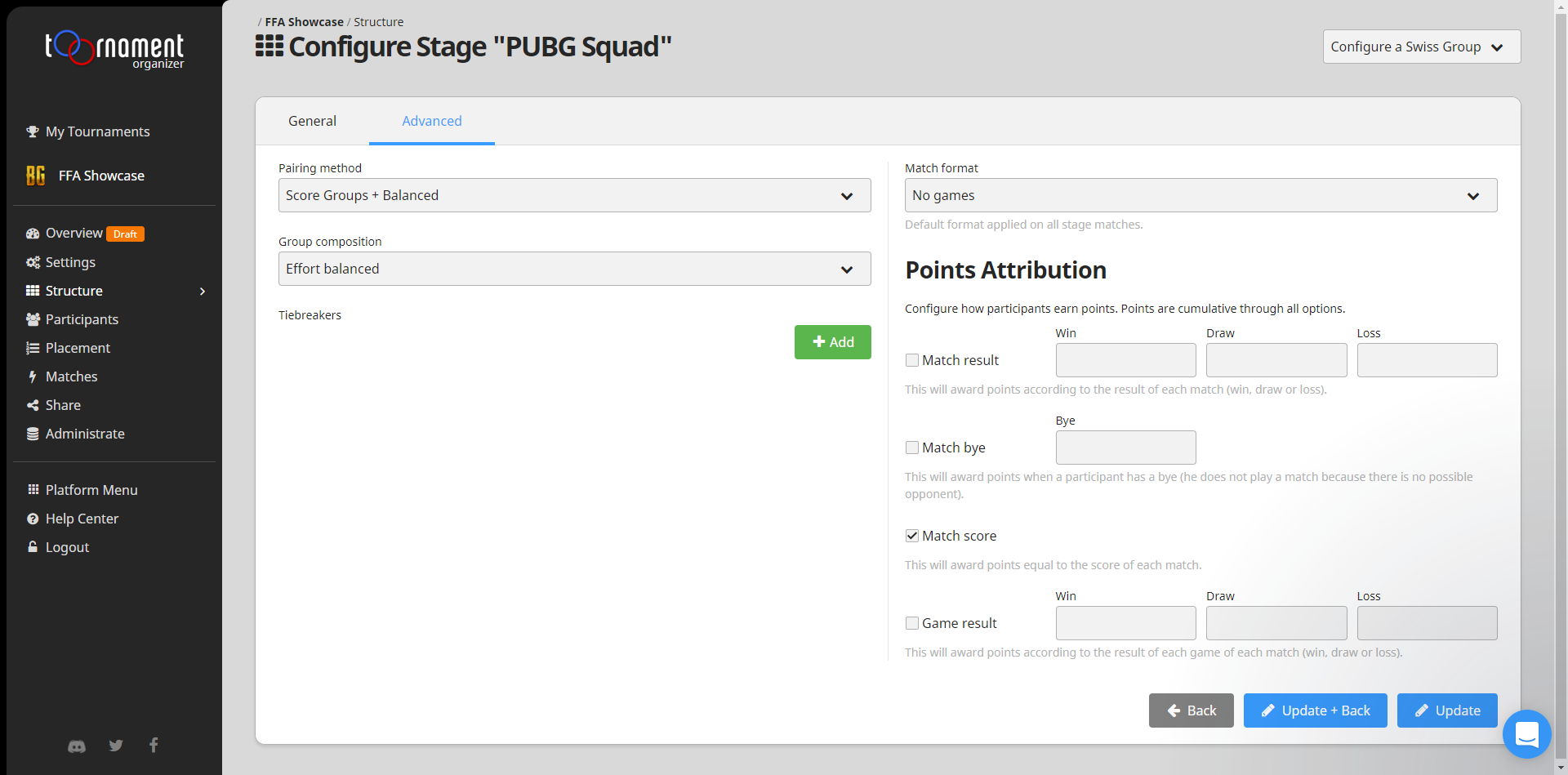 Points Attribution System - Click to Enlarge

Once you have all of your Participants, accepted or created, the next step is to Place all of your participants in the Stage, in any order, and save your Placement.
You now have your Swiss Stage with your Participants in it, and the First Round is ready to be played.
As stated before, you need to have a Ranking Scale, let's say in our particular case, we reward only the first 5 teams with points:

100 Points
60 Points
40 Points
30 Points
25 points
And that every kill awards 5 Points,but still only for the Top 5, if you kill a lot of people, but end up 6th, you don't get anything...
We do not recommend you use this ruleset, it's just quicker and simpler for the example.
You have 10 matches in your first round, the important part is that everyone plays, their displayed opponent on Toornament does not matter, as we will simply use the matches to input the Points earned by each team.
For our example, let's say the match ended with this Top-5:
Luminosity Gaming (8 Kills): 100+40=140 Pts
Team Liquid (12 Kills): 60+60=120 Pts
Team SoloMid (3 Kills): 40+15= 55 Pts
G2 Esports (9 Kills): 30+45= 75 Pts
Cloud9 (5 Kills): 25+25= 50 Pts
Simply leave the "Win/Draw/Loss" setting empty, or "DRAW" for every match (it depends on whether you want the small "D" to appear on the ranking table, to maybe display how many rounds were played) and give the according scores to the teams that earned points: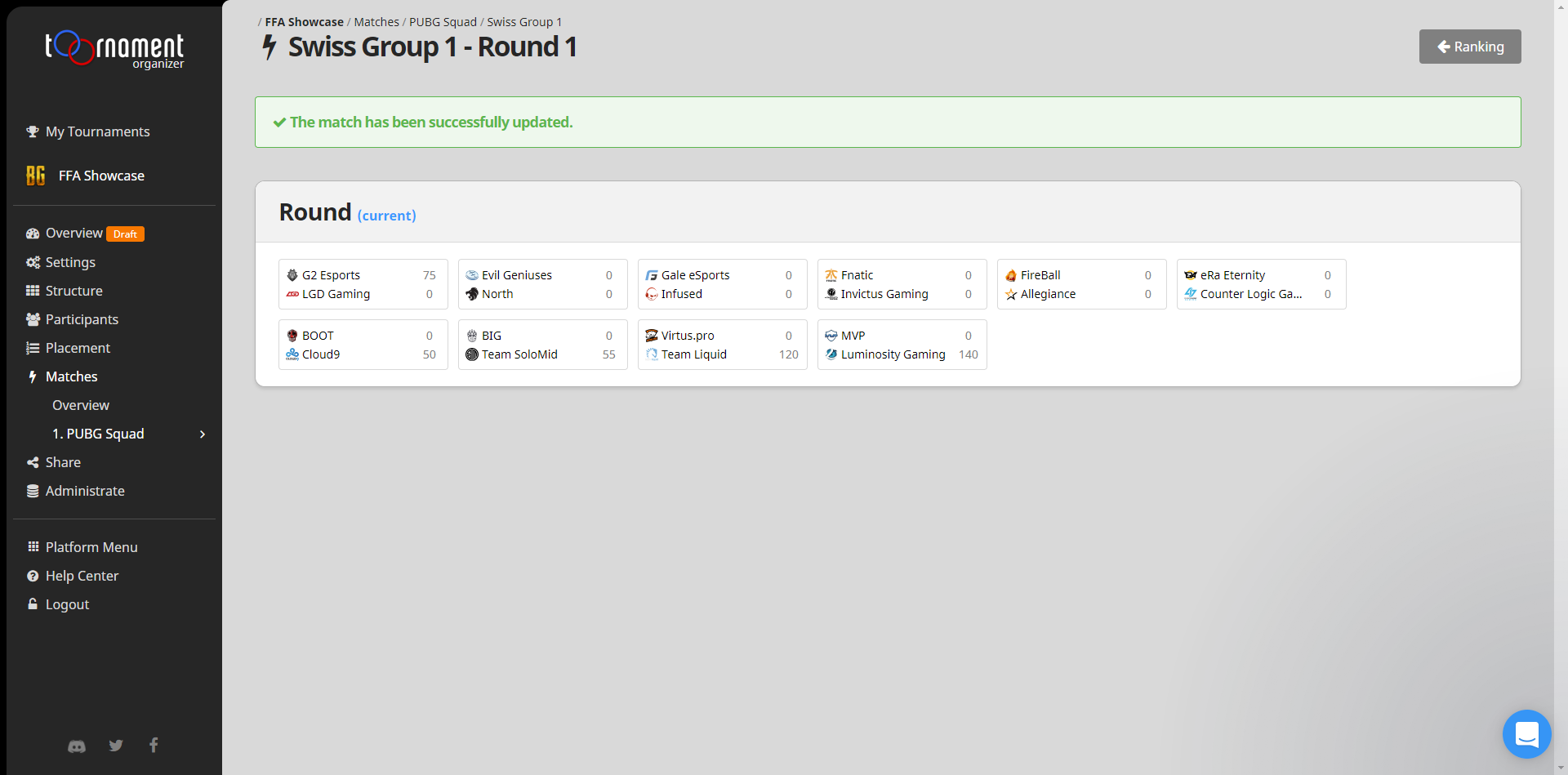 A round worth of scores - Click to Enlarge

Now, we have a 3-games match, so we need to keep the competition going, so we simply "Create Round 2" and play the second game. Once again, we follow the same rule, and give points to the teams depending on their performance. Empty result or "DRAW" for everyone, distribute points, and your global ranking will evolve automatically!
Here are simulated results after 3 rounds of these rules, and a detailed display of scores obtained after each round :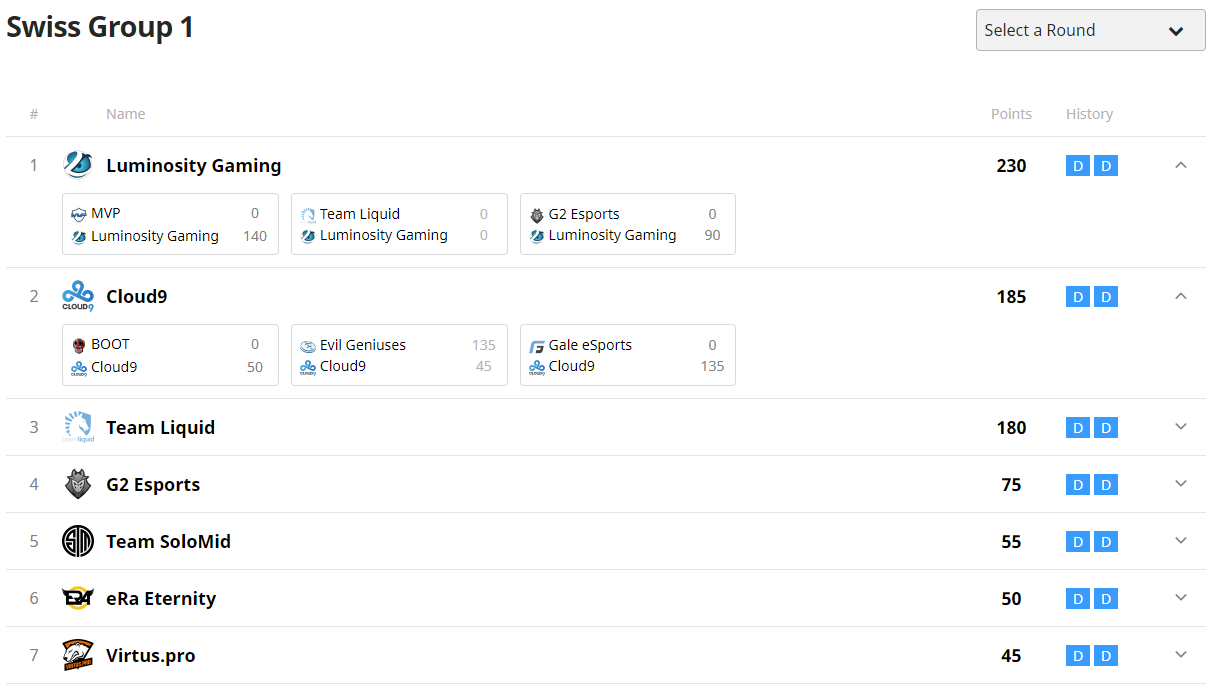 Final Ranking - Click to Enlarge
The Swiss System has a built-in limitation, and you will only be able to create as many rounds as you have Participants minus one. If you need more rounds, simply create a second Swiss Stage, and report your results in the first round of the new one to keep the ranking going!

There you go, you may now drop on Erangel and fight for points, on top of your life! Of course, this will work for any game, and can be tweaked to be used for any other FFA format, so feel free to experiment on your own!
---
How did we do?
---