Use Toornament as a Media
Our platform is the one destination for all Esport professionals and this claim applies for the Media. Our tools can bring great value to your content, here's how!
Our featured tournaments
Since tournaments' coverage is an important part of our strategy, we have a dedicated team covering the major tournaments from popular Esport disciplines. These "Featured Tournaments" are garanteed to feature verified results, infos, stats and streams. Feel free to embed them so that you can focus on your own content!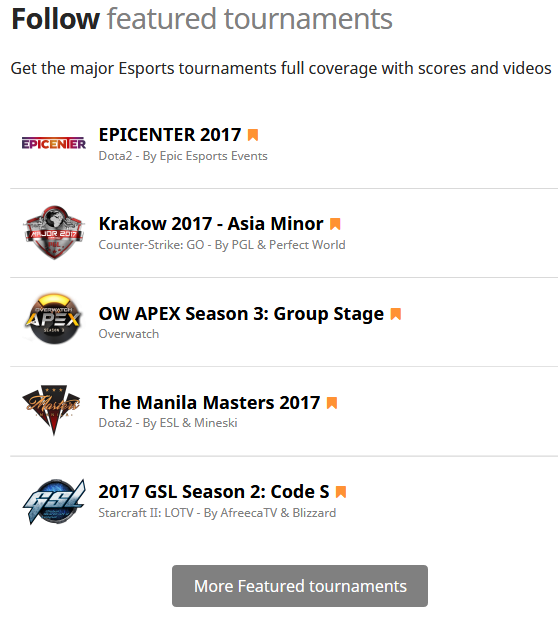 Widgets
Video matters when you want to draw the audience to your website and can be one of the most importants point: where can I follow the match? Are there some recap'? A top 10 actions? You can embed streams and VODs in our widget Tip: you can embed a widget with a specific page.
API
We talked at length about our open API, allowing you to generate great content for your media. We were able to publish a complete infographic on the Capcom Cup Finals based on the data gathered.
This could go even further with games with Match IDs such as League Of Legends, Dota 2 or Blood Bowl II.
Our API is a great content generator and free, so do not hesitate to extract as much data as you want.
Mobile app
When media invest people and ressources in an on-site tournament coverage, they need to move all the time between the stage, the gaming and the press area.
As Toornament is 100% responsive, you can report scores and manage your tournament's coverage with a simple smartphone.
This adds great flexilibity and saves time, when every second counts.
The Organizers themselves
Toornament is a toolbox for tournament organizers at heart. Odds are high that the tournament you cover is already being managed by the organizers themselves, using our platform. You then get results straight from the source without any delay.

Always check if a tournament you cover is using Toornament. It could save you a lot of time.
Our support
We finally would like to stress our that we are always eager to help all Esport professionals and enthusiasts. If you have any feedback or request, we'd be happy to help. Happy coverage!
---
How did we do?
---