5 Tips to Promote your Tournament
You now know us and use Toornament to design and produce great Esport tournaments. How about you get even more value by promoting them the right way? Here are our 5 tips!
1. Create content
Great content adds visibility and lifespan to your event. A teaser / trailer is an efficient way to carry the announcement or registration opening. After the event, a video highlight always pleases the participants and viewers alike. If video requires too much resources, go for nice graphics and pictures.
2. Use our Widgets
Our widgets are the to-go tool for promotion. Customize and embed them everywhere like a Youtube video: medias, community sites covering your tournaments will then get a real-time coverage of all the scores, results and streams. Win-win situation!
3. Get social
Social are still the most powerful way to engage with your audience and promote your tournament. But your account need to exist all-year long, or you will not gather enough followers and contacts to share your projects, so be aware of all the efforts you'll have to engage each time you enter a new social network. The Twitter/Twitch/Facebook trio remains the place-to-be for all things gaming.
4. Interact with your audience
Creating interactions on your different channels is the best way to create and maintain hype around your event. Start sponsors raffles and giveaways on your stream, make announcements befor the finals, organize showmatches, polls on Twitter etc. Matches are the main dish, interaction are the snacks people keep coming back to.
5. Get featured on Toornament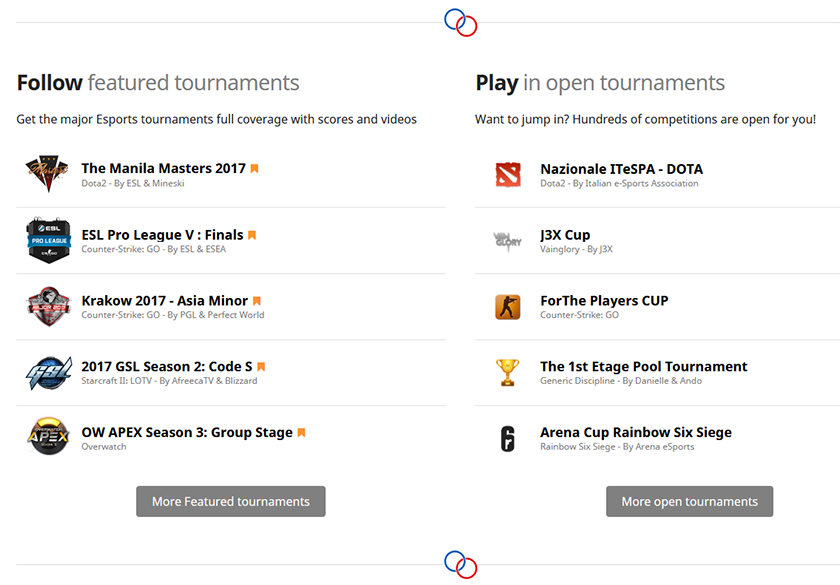 Last but not least, we're featuring tournaments from our community.
We're always eager to help our community organizers by promoting their tournaments on Twitter, so don't hesitate mentioning us with @Toornament!
If you wish to be displayed on the Front Page, just create an Open Tournament, and our algorithm will see the rest through if your tournament does feature complete information!
As for the "Featured" parts, if you think your tournament has what it takes to be among the very best ones, feel free to contact us through the Platform Support or Email us!
---
---